Here are just two of the many slides that I've carved for my sons. Although the elephant was carved from pine, I prefer to use basswood because it's soft, easy to carve, and doesn't have a whole lot of grain to work against.
A neat Root Beer Keg Woggle from Lance Wilkinson.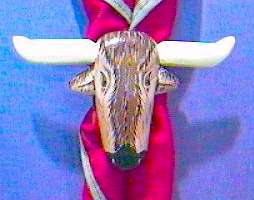 I created this longhorn based on the standard slide we've all seen. I wanted a more finished look, so I did some detailed hand-painting with craft paints. I sealed it with 2 coats of craft spray to protect the finish. This one is carved from basswood. I attached a thin piece of rubber to the back to act as the loop.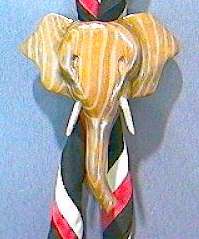 This elephant was carved from a piece of standard pine shelving (3/4" thick). I had intended to paint it when it was done, but the grain looked so nice I left it. I used an oak stain to bring out the grain lines, then finished it with 3 coats of high-gloss polyurethane. The tusks were cut from pine, stained white, the glued into holes I'd carved in the face.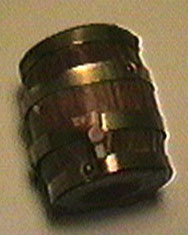 The wood was drilled first, then carved from pine and gloss finished. Brass bands were formed and affixed with brads. "Another early project which I'm still very fond of. No safety guard so I always tie the frowned-upon knot under this slide. After 30 years, the spout didn't survive my son's first time wearing this one, so the original hand carved spout has been replaced with a new one formed from fine dowel fragments carved and glued in place."